Herta Müller Where One Cannot Speak: Word as Image, Image as Word
28.06.2019 - 22.09.2019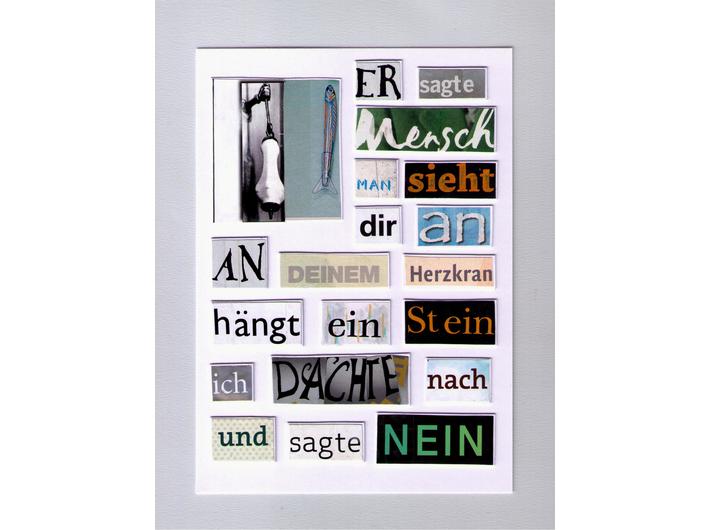 At the exhibition we present dozens of the collages by the Laureate of the Nobel Prize in Literature Herta Müller, which she created during 2005–2018. This is the first-ever presentation of these works in a museum of contemporary art.
Herta Müller has been making collages since the late 1980s. At first, as was the case with Wisława Szymborska, they functioned as postcards sent to friends and acquaintances. Herta Müller did not like the postcards available from shops, so she went everywhere with scissors, creating her own compositions from short snippets of text and pictures cut out from newspapers.
In time, this has become a significant artistic endeavour. What did remain constant, however, were the format of a postcard and the composition based on text-cum-image. At home, Herta Müller organised her work studio, collecting words and pictures and filing them alphabetically in shallow-drawer filing cabinets. Different stages of the job take place on different surfaces. The artist does not rely only on the readymade words or images. She often makes used of individual syllables, letters or fragments of pictures. She creates words, often her own neologisms, the appearance of which reflects her own vision. This treatment invests the words with a sensory quality – attached to a three-layer cardboard, they acquire a life of their own, creating their own worlds within the whole.
The colour and the composition matter for Herta Müller, as they would for any artist. She has created a unique concept of visual poetry, subjugated to the rigour of the format imposed that permits only a limited number of words (from a dozen to approximately a hundred). With her condensed metaphors she captures the reality and her impression of it. The actual creative process takes time and requires a great precision and concentration from the author.
The exhibition of Herta Müller is part of the series in which we bring closer complex creative individualities – writers, philosophers and scientists, who also create visual works. To date, we have presented the collages by Wisława Szymborska, drawings by Zbigniew Herbert, oil paintings and watercolours by Joachim Ringelnatz, drawings and paintings by Leon Chwistek and the watercolours by Alina Dawidowicz.
Herta Müller was born on 17 August 1953 in Nițchidorf, in the multi-ethnic Banat region in the Romanian People's Republic. She hails from the German minority. During the war her father served in the Waffen-SS – the 10th SS Panzer Division 'Frundsberg'. After the war, along with the other Germans from Banat, her mother was deported for some years to a labour camp in the Soviet Union. Herta Müller attended a German-language lycée in Timișoara. During 1973–1976 she read German studies and Romanian literature at the West University of Timișoara. In 1976 she took up a job as a technical translator in a machine factory, but was sacked in 1979 for having refused to collaborate with the Securitate, the communist regime's secret police. In 1987 she emigrated and settled in West Berlin. She worked as an artist and a visiting professor in a number of German universities and abroad. In 2009 she was awarded the Nobel Prize in Literature. She lives and works in Berlin.