Shinji Ogawa I Enter Every Reality
24.10.2019 - 15.03.2020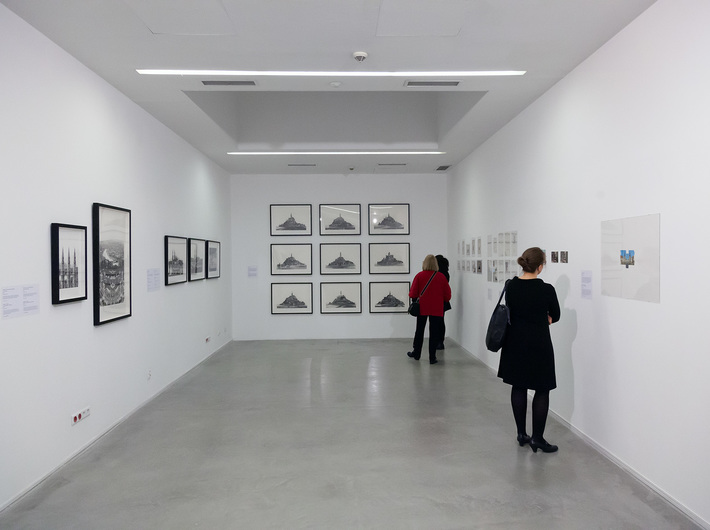 Exhibition to celebrate the artist's 60th birthday. This is the first such comprehensive presentation of selected works by Shinji Ogawa in the MOCAK Collection. It has been supplemented with works on loan from the artist and from private collections (Mizuho Ogawa, Seiichi Yoschino and STANDING PINE).
The exhibition presents several dozen works from the years 2005–2019 – drawings, paintings and painting interventions on prints. The exhibition is divided into the following themes: utopian urban planning, Polish inspirations and reworking of traditional painting and woodcuts.
The work of Shinji Ogawa perfectly reflects the essence of Japanese art. It is characterised by masterly technique, extraordinary detail and precision. The artist uses images of famous buildings, places and representations from the area of culture (painting, music, film, Japanese woodcut). Because of the – at first glance – flawless realism of the image, the viewer is inclined to take for granted the authenticity of the scene, focusing exclusively on the virtuosity of the classical painting and drawing techniques. After closer analysis, however, some nagging doubts appear as to the credibility of the painting. Is there not the Town Hall Tower missing in the Market Square in Krakow? Are there really two belfries on St. Mark's Square in Venice? Why in the portrait of Mrs. Récamier is there no Mrs. Récamier?
The artist plays with the viewer and the premise of a faithful representation of the world; he removes, adds, separates, supplements, and creates anew. With his works, he seems to be saying: Stop believing in the image. He stimulates the viewer's perceptive vigilance towards representations that seem familiar and certain. There are several levels of manipulation. They are most difficult to see in the case of traditional postcards with photographs of places. Shinji Ogawa introduces delicate changes that blend into the image, rendering the entire representation suspect. The artist uses various sources and conventions of representation; he blends, deconstructs them, and achieves absurdity. In his works, European culture is filtered through Japanese mentality.
Shinji Ogawa (1959) – born in Yamaguchi, Japan. In 1983 he graduated from the Faculty of Artistic Education at the University of Mie. He lives and works in Nagoya.