Mikołaj Smoczyński Object, Space, Photography
18.10.2014 - 11.01.2015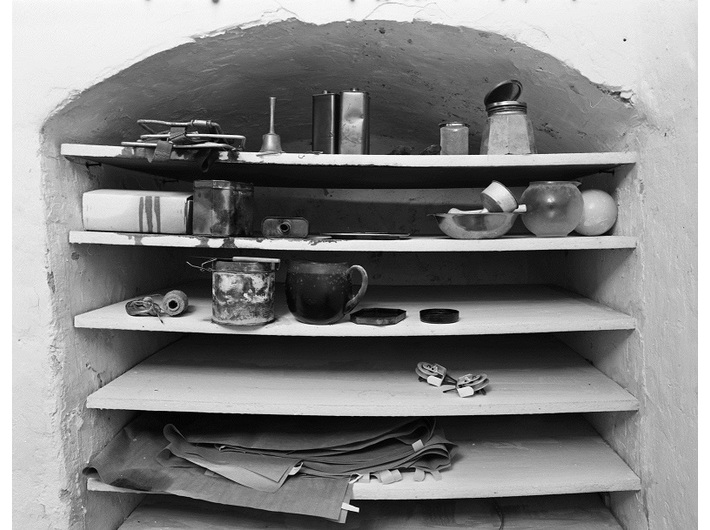 The first in the series of exhibitions presenting the work of Mikołaj Smoczyński at MOCAK – based wholly on the artist's works and the archive collection that the Museum received in 2011 as a gift from the artist's heirs.
What links the presented exhibits are Smoczyński's site-specific projects – unique structures prepared with concrete spaces in mind. We shall present objects from the artist's archive that in the past were used as the building material for these realisations. These will be juxtaposed with Smoczyński's black-and-white photographs which transcend the scope of mere photographic documentation and are without a doubt autonomous works of art.
In the MOCAK Collection there are more than a thousand works by Mikołaj Smoczyński; these include 45 paintings and sketches for paintings, 36 exhibition posters and 992 photographic prints collected into 47 series. The artist's archive consists of 4 080 negatives, 2 064 diapositives and also notes, parts of dismantled installations, unfinished works or works 'under construction', poster designs, trial prints that show the process of the preparation of the work and the photographic documentation of exhibitions.
Smoczyński also left theoretical texts in which he analyses in detail his works, describing their visual aspect, revealing his thinking and hinting at the ways to interpret the works. In 2013, MOCAK published Past Tense, which consisted of the compilation of texts, selected by Smoczyński entitled Commentaries on the works created from 1980 to 1999 (author's abstract) and the photographic album Collection.
Mikołaj Smoczyński (1955–2009) – associated with Lublin, where he lived and worked since his period of studying there (1975–1979) at the UMCS.  Author of site-specific  installations and monochromatic photographs, which often provide a creative record of his activities in gallery space. Sculptural activity and experimental photograph are hard to distinguish in the artist's work.
Smoczyński presented his works in a few dozen individual exhibitions, including in San Diego (San Diego State University Art Gallery), Lyon (E.L.A.C.), New York (Art in General Gallery, International Studio Program) and Berlin (IFA Galerie). He received numerous awards, including the European Photography Award (1992) in Berlinie as well as grants, such as Quint Kirchman Projects (San Diego, 1991), Fondation d'Art de la Napoule, Memorial Henry Clews (La Napoule, 1993) and the International Program Studio (New Jork, 2001). Mikołaj Smoczyński's works can be found in the collections of the most important cultural institutions in Poland and in numerous collections abroad.
The project is financed by the European Union as part of the Operational Programme for the Małopolska Region 2007– 2013