Nikifors
13.02.2015 - 12.04.2015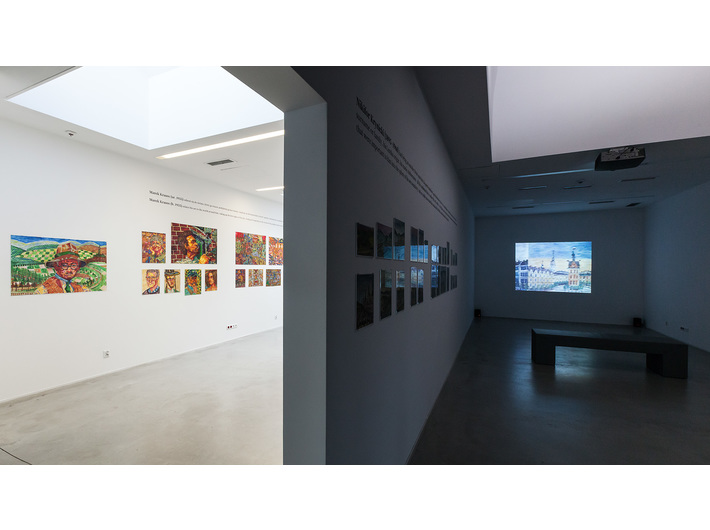 The focus of the exhibition is Nikifor Krynicki. His opus consists of paintings usually executed in watercolour or guache on bits of cardboard, pages from notebooks and on any piece of paper that the artist could lay his hands on. In his self-portraits, he often styled himself as someone of high status, in this way compensating for the lack of respect from others. His landscapes and paintings of exteriors and interiors of buildings represented an alternative world that encapsulated all that mattered to Nikifor and that he considered beautiful. The other artists whose works we present at the exhibition demonstrate a creative stance and perception of the world similar to those of the artist from Krynica.
Alina Dawidowicz was daubed 'Nikifor in a skirt'. She also painted her small paintings on pieces of cardboard or scrapes of notebooks, using watercolours and felt tip pens. For Dawidowicz, her art was a way of creative passing the time. She would give away to friends and family her colourful paintings, which were copies of well-known works of art that she found in art albums.
Edward Dwurnik is the only art graduate amongst the exhibited artists. For Dwurnik, art is a profession and a way of commenting on contemporary reality. In his early works, he was inspired by Nikifor. He watched the Maestro closely and imitated his painting style: a bold contour and intensive splashes of colour. He was particularly impressed by Nikifor's paintings of urban architecture.
Marek Krauss has adopted the moniker of 'Nikifor Warszawski' – Nikifor from Warsaw. Just as Nikifor from Krynica was, Krauss was also disabled, and had to overcome numerous difficulties for his art to be acknowledged and appreciated. In his art, he sets up to provoke and convey his interpretation of the social role of the artist. His colourful paintings, usually A4 in size and painted on paper in guache, comment on topical political, social, ethical and cultural issues.
Nikifor Krynicki (real name Epifaniusz Drowniak; 1895–1968) – a painter of Lemko origin. He was born in Krynica, where he lived for most of his life. He could barely read and write, he had a speech impediment inherited from his mother and he was hard of hearing. He could not live off his paintings, so he also resorted to begging. Nikifor's art was discovered in 1930 by Roman Turyn, who showed it to the Kapist painters living in Paris; however it was only in 1949 that Ella and Andrzej Banach organised Nikifor's first exhibition. Nikifor's paintings were successfully exhibited in Dina Vierna Gallery in Paris, the Stedelijk Museum in Amsterdam, Galerie La Proue in Brussels, the Historisches Museum in Frankfurt-am-Main and in the Haifa Museum of Art.
Alina Dawidowicz (1918–2007) – the daughter of  Leon Chwistek, a painter, art theoretician, mathematician and philosopher. Educated as a mathematician, for many years she held the post of assistant professor at the Krakow University of Technology. Interested in art since childhood, she only began to produce intensively her miniature paintings – some twenty a week – after retiring in the 1980s. She glued each work onto whatever came to hand: bits of coloured paper or cardboard, envelopes or old leaflets and magazines. The paintings represent landscapes, architecture, people, animals or religious motifs. Most of the themes came from photographs, newspapers or albums on art.
Edward Dwurnik (ur. 1943) – studied at the Academy of Fine Arts in Warsaw. The work of Nikifor had a great influence on the shaping of his artistic expression. In the late 1960s he began to work on his first and largest series Hitchhiking. The paintings that form the series are vistas of contemporary cities, shown from a bird's eye view, drawn in a characteristic style. Besides this series, Dwurnik also paints portraits and paintings that refer to social and political situations, including events from the communist era and since 2000 – paintings that stylistically draw on abstract expressionism.
Marek Krauss (ur. 1955) – lives in  Legionowo. He spent 1962–1968 in a psychiatric clinic in Garwolin with cerebral palsy. He went to special schools: primary, then a technical college, graduating as a book binder. He paints mainly in gouache and watercolour on paper; his paintings reflect everyday life or relate to topical social and political themes. In 1998 his first individual exhibition took place in the Cultural Cenre in Mińsk Mazowiecki. In 2012 Marek Krauss founded the programme of the Art Brut Art Centre, which supports novice artists and conducts art classes in naïve art at the Municipal Cultural Centre in Łajski near Legionowo.
The exhibition will be accompanied by a catalogue in Polish and English.