Lighting Studio
15.05.2015 - 14.06.2015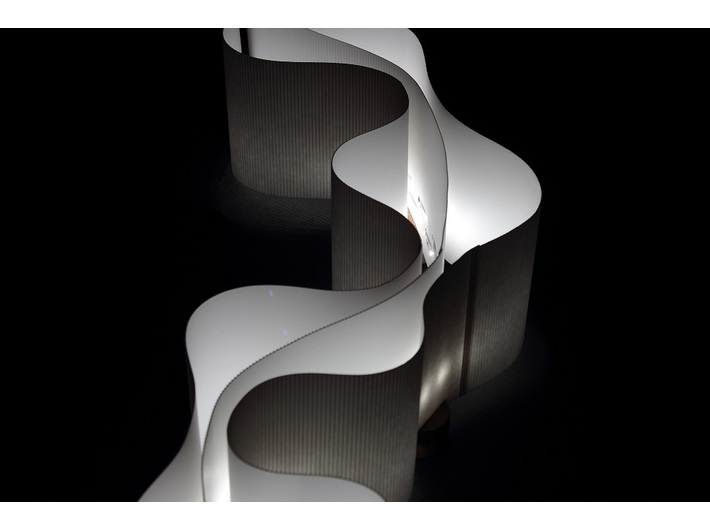 The year 2015 was proclaimed by UNESCO as the International Year of Light and Light-based Technologies. Therefore at Re Gallery we present lamp designs by the students of the Faculty of Industrial Design at the Academy of Fine Arts in Krakow. The designs were created in the years 2002-2014 at Professor Piotr Bożyk's Studio of Conceptual Design. The exhibition will feature some of the prototypes and photographic documentation of about a dozen designs.
Beside its practical application electric light has considerable aesthetic values. It can serve as artist's main medium (Angela Bulloch, Keith Sonnier). It is also an interesting source of inspiration for designers, who seek balance between the practical and aesthetic qualities of object.
The curriculum of the Studio of Conceptual Design aspires to create objects which are surprising in terms of design. The key concepts are innovation and reasonable approach to function. The presented objects make use of both the newest materials and the ones traditionally employed in light industry (wood, metal, fabric). The source of light in the designs are energy-efficient, cool LED lightbulbs. They allow for shaping the lamps, as the user can safely touch them.
The construction of all lamps allows for their free arrangement. In principle, the design is interactive, which, however, does not apply to the prototypes. The user becomes a co-creator, who can alter the lamp's arrangement and appearance. This line of designing has sound theoretical basis in the ergonomic conceptions of the Academy professors, especially Andrzej Pawłowski, the icon of Krakow's design. The first dean of the Faculty of Industrial Design propounded the form of reception of a work of art that was almost identical with creating. The nature of the presented works results from having implanted in the young generation this approach to the relation with the object. The integration of user and object is supposed to show that design is not only for space, but for man in the first place.
Designers who take part in the exhibition:
Prototypes: Joanna Guzik, Alicja Jakubas, Kaja Kordas, Alicja Kromka, Maria Markowska, Magdalena Pasternak, Alicja Prussakowska, Marta Stanisz, Tomasz Wagner, Maria Wojtera
Photographic documentation of prototypes: Jakub Jagiełło, Lidia Koczyba & Joanna Nieć, Maria Korzeńska, Olga Kuźniar, Urszula Tarasiuk