Young Painting from Linz
16.10.2015 - 20.03.2016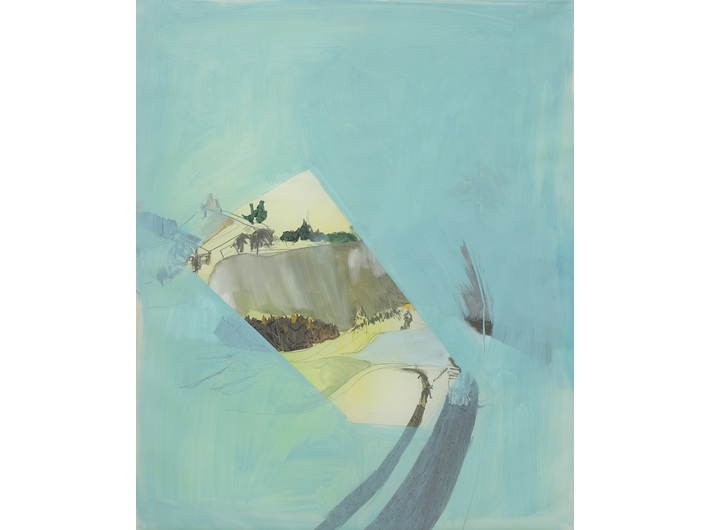 The exhibition at the Re Gallery at MOCAK will present works by six students at the University of Art and Design Linz in Austria: Martin Bischof, Theresa Ulrike Cellnigg, Judith Gattermayr, Elisabeth Neuwirth, Georg Pinteritsch and Ilona Rainer-Pranter. The presentation has been prepared in collaboration with the Department of Painting and Graphics at the University, directed since 1998 by Professor Ursula Hübner. This is the second – after Young Israel – presentation at the Re Gallery of artists from abroad. The exhibition demonstrates the wide-ranging thematic scope of the paintings, encompassing the geometric and the figurative, matched by diverse techniques.
Georg Pinteritsch and Martin Bischof create tightly organised geometric compositions; those by Pinteritsch are reflections on the landscape, whereas Bischof's works deconstruct space in the context of a building. The paintings by Ilona Rainer-Pranter, executed on transparent paper loaded onto a weaver's loom, set out to reproduce the landscapes that the artist grew up in. The works by Elisabeth Neuwirth are characterised by their impressionist presentation of plants and animals, executed with multi‑coloured splashes of colour and lines. In turn, the portraits by Judith Gattermayr – through deforming the anatomy of the face – reveal the dark side of her sitters' psyches. The works by Theresa Ulrike Cellnigg provide a counterpoint; they depict people enjoying their leisure time.
The exhibition is accompanied by a catalogue that presents the artists and their works in Polish and English. At the MOCAK Library you can also find a portfolio of all the students at the Department of Painting and Graphics at the University of Art and Design Linz as well as the catalogues of their group exhibitions, published by the Kunstuniversität Linz.