Csaba Nemes When Politics Enters Daily Life
16.10.2015 - 28.03.2016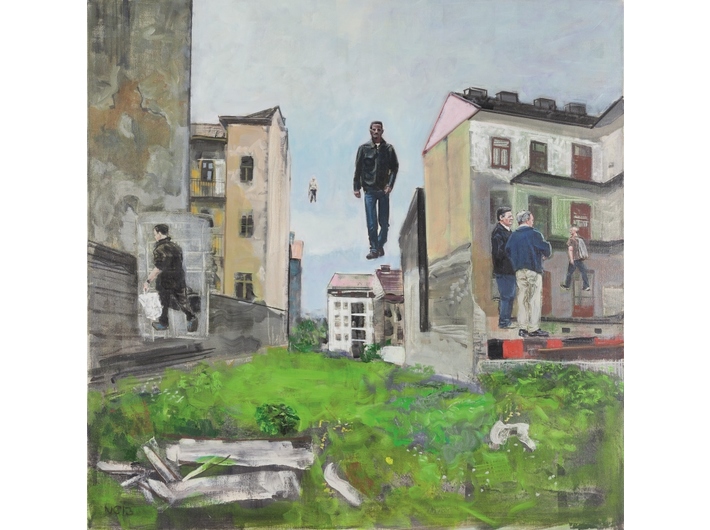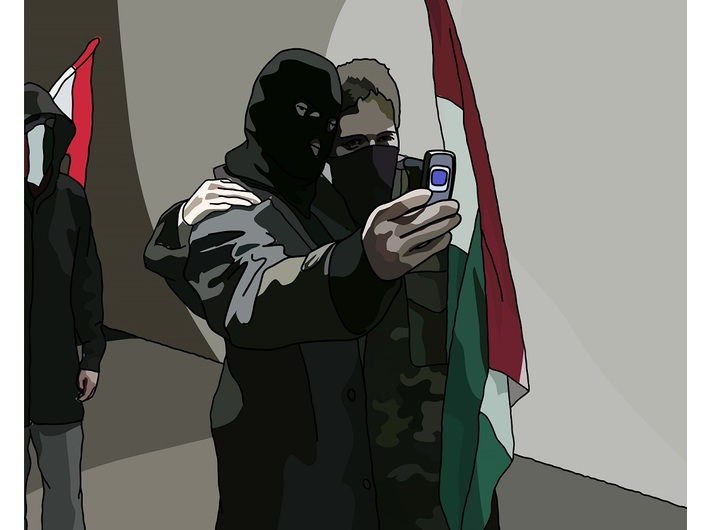 In his distinctive art practice, Hungarian artist Csaba Nemes critically investigates sites of social and economic imbalances, the unexpected overlaps between personal and political history, and instances of friendship in times of despair. The exhibition When Politics Enters Daily Life at MOCAK presents Nemes's singular artistic achievement that deftly branches into painting, drawing, film, animation and photography.
His most recent series of paintings, Frozen Assets (2015), updates Diego Rivera's infamous 1930s socially-engaged mural of depression-era New York for today's global political deviations and inflexible social structures. On the other hand, theorist Franco Berardi Bifo's insight that in the current situation of little hope, caused by financial violence, austerity and new European selfishness, 'only friendship is left' provides another pertinent angle on Nemes's practice. Switching his role from that of a flaneur of transition to an activist for artistic freedom and social justice, the artist's approach delivers a vibrant chronicle of the transformations in Hungarian society on the rocky road from decayed state socialism to self‑declared illiberal democracy.
At the centre of the exhibition is the extensive series of paintings, Father's Name: Csaba Nemes (2009-14), which are based on the reworking of a collection of photographs from the family archive, taken during the 1960s and 70s in the Hungarian countryside by his father, whose name he shares. The archive consists of several hundred photographs, out of which Nemes selects the ones that he has decided to paint. The artist questions these inherited images as documents of everyday life under socialism and explores the processing of the political past and the integration of personal history into historical narratives. The exhibition also includes the series of drawings Utopia Ruin Pub (2011–13) that uncover the oppositional culture of Budapest's famous outdoor bars, and a selection of posters such as Plebeian Art! (2013) that are presented alongside documentation of art world protests against the conservative arrogance of cultural policy in Hungary. Nemes's recent output is contextualised with his earlier works charting the chaotic urbanism of post-communist transition, such as the photographic series Stolen Facades (1992), while the pre-history of current political excesses are highlighted in the animated film Remake (2007) that deals with the dramatic events surrounding the 50th anniversary of the Hungarian Revolution. Architectural forms recur in his practice as indices of social power, while historical events and the allure of past epochs feature not as tools of nostalgia but rather as keys to interpret the present.
Csaba Nemes was born in 1966; he lives and works in Budapest. He graduated from The Hungarian University of Fine Arts in 1989, where he also gained his doctorate  in 2010. He is a lecturer at the Art Academy of the University of Pécs and is represented by Knoll Galleries Vienna & Budapest. Recent exhibitions: Don't Try to Make it Logical (Museum of Modern and Contemporary Art, Rijeka, 2014); Let's Talk About Nationalism! Between Ideology and Identity, Kumu Art Museum, (Tallinn, 2010); and Loophole to Happiness, (Muzeum Sztuki Łόdź, 2011). As a member of the group Free Artists, he has played a prominent role in artist-led protests against the rightwing takeover of culture in Hungary. He was the winner of the 2013 Leopold Bloom Art Award organised at the Ludwig Museum Budapest and a recipient of the RU Residence in New York in 2014.
Drs. Maja and Reuben Fowkes are art historians and curators who work out of Budapest and London. They are founders of the Translocal Institute for Contemporary Art, a centre for transnational research into East European art and ecology based in Budapest.