The Studio of Łukasz Skąpski
MOCAK has published an exhibition catalogue, presenting the work of students and graduates of the Skąpski Studio of Photography and Artistic Strategies, headed by Łukasz Skąpski at the Academy of Art in Szczecin. The publication includes reproductions and descriptions of artworks, biographical notes, as well as a curatorial introduction presenting the concept of the exhibition, and Łukasz Skąpski's essay on teaching art.
Available from MOCAK Bookstore and online.
Language of the publication: Polish, English
Texts by: Mateusz Grymek, Łukasz Skapski
Translation: Anda MacBride
Graphic design, DTP: Marta Mosiołek
Format: 170 × 230 mm
No. of pages: 42
ISBN: 978-83-65851-20-8
Krakow 2018
Catalogue accompanies the exhibition:
The Studio of Łukasz Skąpski
Curator: Mateusz Grymek
Collaboration: Łukasz Skąpski
MOCAK Museum of Contemporary Art in Krakow
26 October 2018 – 17 March 2019
Buy now: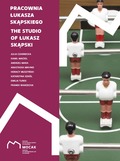 5,00 zł
Add