The Living Library
24.04.2013 - 16.05.2013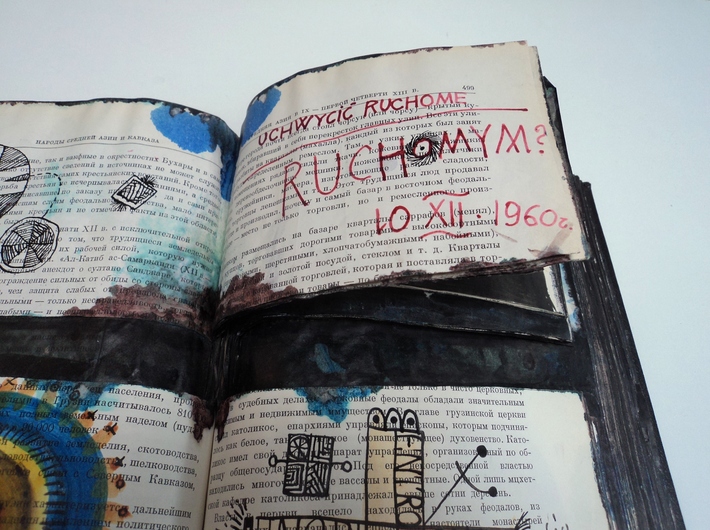 The preparation of a museum exhibition is akin to a journey of discovery, that – apart from the very joy of travelling – also aims to verify the existing maps and to create a new topography of the phenomena of interest to us.
The exhibition at the MOCAK Reading Room is the outcome of just such an exploration of its environment. Living Library sets out to capture the seminal moments in the life of books, highlighting their fascinating co-existence with the transformations in Polish reality.
Living Library provides an opportunity to encounter an antiquarian bookseller and a mobile library, reflecting on the tradition of an art book; it also allows a glimpse into the future, presenting a forerunner electronic publication. It has been created by the stories of individuals whose biographies would be unimaginable without books.
Taking case studies as its starting point, Living Library investigates how books are received and used in society: from the individual experience of reading to the fate of a book as an object – its circulation, its contemporary functions and the means of artistic intervention. The diversity of the works on display reflects the complexity of the issues involved – the multimedia exhibition combines the documentary narrative with the universal language of art.
We hope that the small-but-perfectly formed scope of the exhibition that reflects the intimacy of the reading experience will encourage you to linger longer, both to read and to look around.
The following works will be presented at the exhibition:
Maciej Cuske, Antykwariat / Antiquarian Bookshop, 2005, documentary film, 28 min
Hubert Czerepok, Biblioteka / Library, 2003, video, 9 min
Grzegorz Jaroszuk, Biblioteka / Library, 2007, documentary étude, 14 min
Zbigniew Rybczyński, Nowa książka /  New Book, 1975, video, 10 min
Jarosław Faliński, Zbigniew Makowski. Nulla est fuga. Gnothi seauton, 2009, documentary film, 80 min
Zbigniew Makowski, Las husula extranas, 1965, art book
Waldemar Węgrzyn, Elektrobiblioteka, 2012, electronic publication,
art books by MORAVA Publishing House

During the exhibition at the MOCAK Library it will also be possible to exchange books.