Go to the exhibition
Sport in Art
This Polish-English publication which accompanies the exhibition Sport in Art contains texts and illustrations, as do all the large catalogues published by MOCAK. Amongst the texts you will find dissertations about the place of sport in culture and the contemporary world (by the philosopher Józef Lipiec and the sport sociologist Honorata Jakubowskia), the connections between sport and art (texts by art critics Lucien Kayser and Mariia Anna Potocka), a conversation with an artist who also happens to be a sports journalist – Jochen Gerz, as well as the text Sports Chorus by the Austrian Nobel Prize winner Elfriede Jelinek.
Sport in art


language: Polish and English
managing editors: Monika Kozioł, Maria Anna Potocka, Delfina Piekarska
texts by: Jochen Gerz / Delfina Piekarska, Honorata Jakubowska, Elfriede Jelinek, Lucien Kayser, Józef Lipiec, Maria Anna Potocka
translation: Lillian Banks, Karolina Bikont, William Brand, Søren Gauger, Małgorzata Szczurek, Anna Wolna
descriptions of works: Maria Anna Potocka
biographical notes: Monika Kozioł, Delfina Piekarska
graphic design, DTP: Rafał Sosin
format: 210 × 270 mm
number of pages: 200
binding: soft with flaps
ISBN 978-83-62435-64-7
publication date: 2012
Artists (authors of the reproduced works):
Kuba Bąkowski, Andrea Bender, Olaf Breuning, Roderick Buchanan, Paolo Canevari, Leon Chwistek, Josef Dabernig, Simone Demandt, Edward Dwurnik, Margret Eicher, Harun Farocki, Richard Fauguet, Massimo Furlan, Wolfgang Gärber, Volker Hildebrandt, Vlastimil Hoffman, Pravdoliub Ivanov, Rafał Jakubowicz, Zuzanna Janin, Assa Kauppi, Justyna Koeke, Katarzyna Kozyra, Kamil Kuskowski, Robert Kuśmirowski, Antal Lakner, Sigalit Landau, Zbigniew Libera, Ulrike Lienbacher, Ingeborg Lüscher, Marcin Maciejowski, Olaf Nicolai, Jerzy Nowosielski, Agnieszka Polska, Kathrin Rabenort, Leni Riefenstahl, Sławomir Rumiak, Katarzyna Sagatowska, Janek Simon, Zdzisław Sosnowski, Beat Streuli, Leon Tarasewicz, Timm Ulrichs, Wunderteam

The catalogue has been published to accompany the exhibition:
Sport in art
MOCAK Museum of Contemporary Art in Krakow
19.5–30.9.2012
curators: Monika Kozioł, Maria Anna Potocka, Delfina Piekarska
The catalogue is available from the MOCAK Bookstore.
Buy now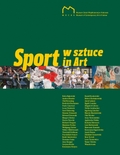 Przecena!
50,00 zł 40,00 zł
Add