Jonasz Stern Landscape after the Holocaust
05.08.2016 - 25.09.2016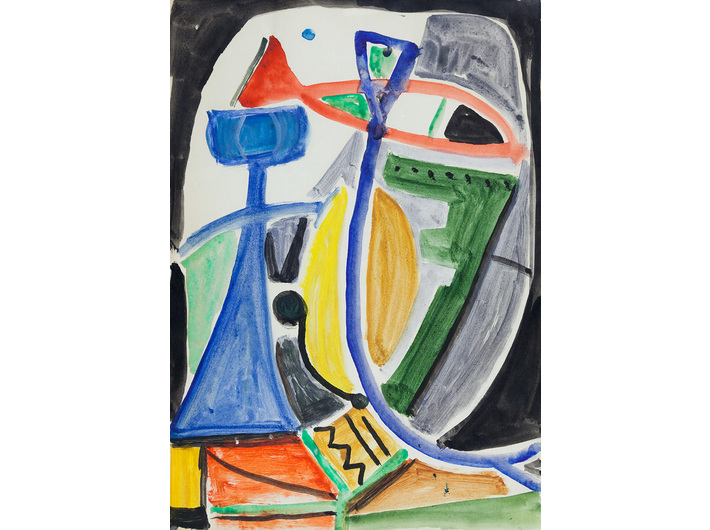 The exhibition will be presented in the Center for Persecuted Arts in Art Museum Solingen.
With his life and art, Jonasz Stern left a permanent mark on the Polish art of the 20th century. Before the war, he was a member of the first Grupa Krakowska (Krakow Group), and in 1957 he co‑founded Grupa Krakowska II, with members including Maria Jarema and Tadeusz Kantor. These were the two most significant artistic formations in Poland.
The pre‑war Group experimented with form and manifested its left‑wing stance, the majority of members affiliated to the KPP, the Communist Party of Poland. For his political views, Jonasz Stern was imprisoned in the Bereza Kartuska concentration camp.
After the Second World War broke out, Stern fleed Krakow for Lvov. The paintings that he had left behind in his studio disappeared. Only one remains, the Nude Study from 1935, which is part of the collection of the National Museum in Krakow. After the Germans occupied Lvov, as a Pole with Jewish roots, Jonasz Stern was put in the ghetto. On 1 June 1943, he found himself in a group ear‑marked to be shot. He managed to escape the bullet and to flee the place of the execution under the cover of the night.
These dramatic wartime experiences took their toll on Stern's outlook and his art. Yet there was not in him an ounce of hatred or bitterness. He became a philosopher, reflecting on life, its transience and dignity. In his assemblages, he expressed his thoughts using simple symbols: scrunched‑up fabric, animal and fish bones, stones, netting and – occasionally – photographs. The drama of his paintings is entirely devoid of pathos. Stern created a universe of abstract landscapes left by a world annihilated. These compositions do not, however, express despair for what has been lost. Rather they carry a message for the living, urging them to be more alert in their humanity. In his art, Jonasz Stern shows the world after the Holocaust – its aesthetic potential an expression of hope for a renaissance of human values.
The exhibition is accompanied by a catalogue in Polish, German and English, with texts by Maria Anna Potocka, Jürgen Kaumkötter, Rolf Jessewitsch, Adam Sandauer, Andrzej Kostołowski and Jan Tarasin as well as reproductions of the works presented at the exhibition.
The exhibition has been organised in collaboration by MOCAK and the Zentrum für verfolgte Künste im Kunstmuseum Solingen with the financial support of The Polish Institute Düsseldorf.