Salvatore Vitale Elusive noise: unfolding the virtual (2014-2018)
27.04.2018 - 17.06.2018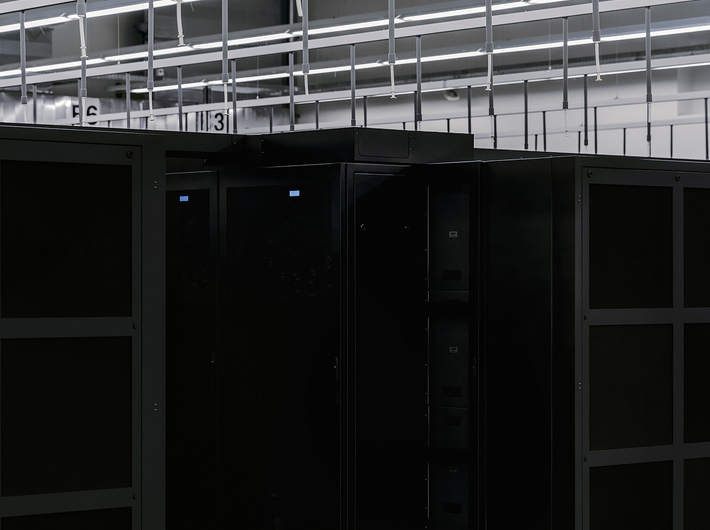 The Swiss-based visual artist Salvatore Vitale has taken up an attempt to represent the world of digital data by the means of photography. In the virtual reality, every piece of valuable information in binary form, before reaching its goal, is temporarily stored and modified. Vitale is interested in the mysteries of cyberspace, the ubiquitous online service and social media – as they all require constant awareness and man's trust in the machine.
The photographs presented in the exhibition Elusive Noise: Unfolding the Virtual showcase the inconspicuous appliances on which digital materials are stored. Vitale succeeds in gaining access to a comparatively new branch of the Swiss information industry. In recent years, the companies in this sector have turned the country into a prosperous haven for storage and protection of data from around the world.
The installation presented at Krakow Photomonth is part of the larger project entitled How to Secure a Country. This project examines the digital flow of data and tries to comprehend the rules of how the relevant technology and infrastructure work. In Vitale's presentation, such terms as "malware", "data hosting", "hacking", "supercomputers", and "servers" are illustrated by concrete objects. The installation's audiovisual materials and interactive elements provide the viewer with a direct experience of the workings of the network to which we daily entrust our private information.
Salvatore Vitale (b. 1986) is a Swiss-based artist and editor born and raised in Palermo, Italy. A recipient of the Swiss Arts Council grant in 2015–2016 and the PHmuseum Grant in 2017. His works have been shown in museums and photography festivals including Photoforum Pasquart, OCAT Shanghai, T3 Photo Festival Tokyo, Gazebook – Sicily Photobook Festival, and Jaipur Photo. He is also the co-founder and editor-in-chief of YET magazine. Vitale is a member of the Academy of the Deutsche Börse Photography Foundation Prize. He has been a jury member of Krakow Photomonth's ShowOFF section, the Grolsch Unseen Residency, and the Kassel Dummy Award. Vitale has led workshops in the UK, Italy, Switzerland, the Netherlands, Nepal, Russia, Belgium, and France. He also gives lectures on contemporary photography.