Polyphonie des Holocaust. Stimmen zur Erinnerungskultur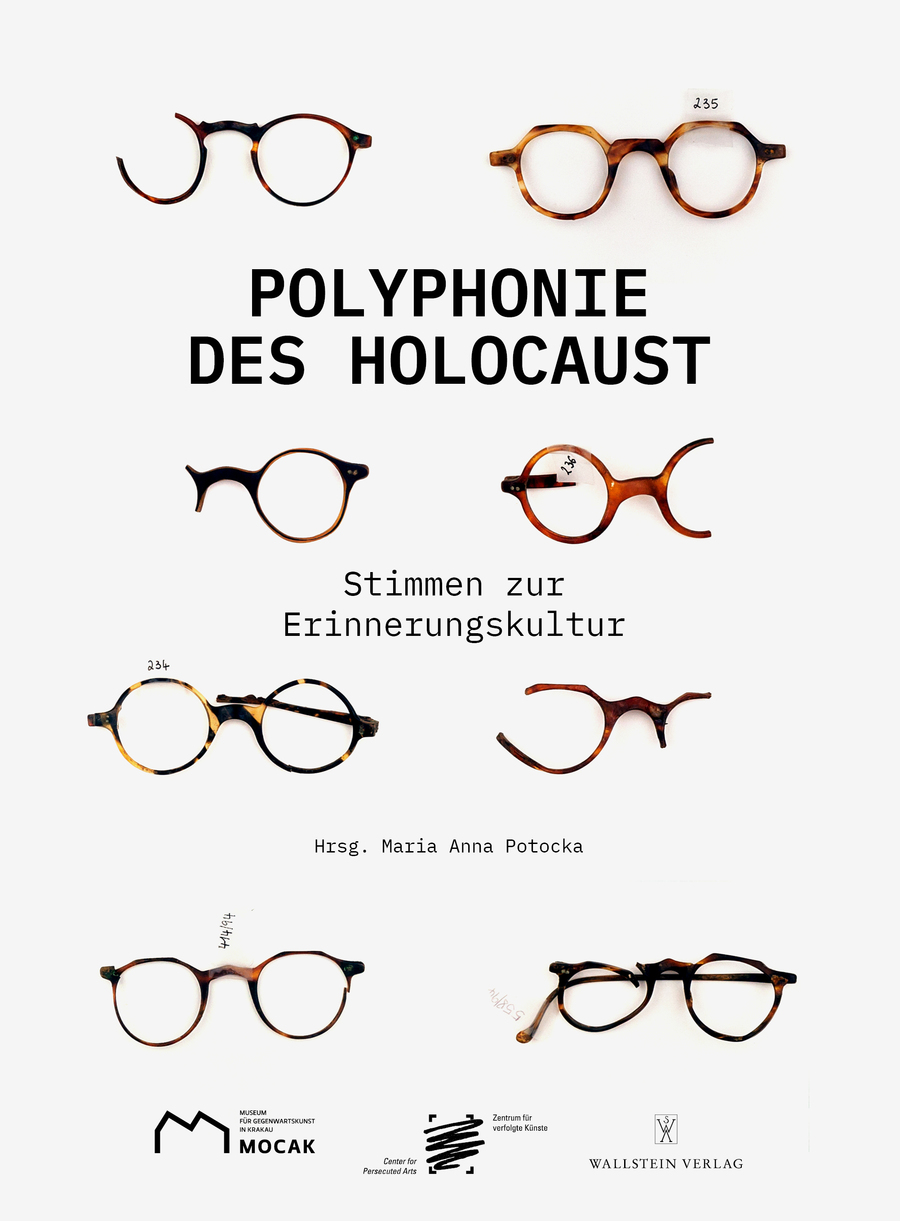 The Polyphony of the Holocaust in German. The publication addresses the question of the visual presentation and interpretation of the Holocaust. The Museum has asked 80 individuals – philosophers, historians, literary scholars, psychiatrists, artists, curators and writers to respond to questions on the memory of the Holocaust, its presentation and the limits of creative freedom in taking this topic on board. The respondents includeBazon Brock, Ben Kiernan, Andrzej Leder, Anda Rottenberg, Ann Snitow, Olga Tokarczuk, and Krzysztof Warlikowski.
The Polyphony of the Holocaust in Polish >> The German edition is based on the Polish edition from 2018. Understandably, we wanted a wider representation of German intellectuals. We also introduced some new texts written by artists, while making the decision to limit the number of Polish contributors.
The co-publishers of the publication are the Centre for Persecuted Arts in Solingen and Wallstein Verlag.
---
Darstellung und Interpretation des Holocaust sind und waren immer wieder Grund vielschichtiger Kontroversen. Ein jüngeres Beispiel dafür lieferte die Rezeption der 2015 im MOCAK Museum für Gegenwartskunst in Krakau eröffneten Ausstellung "Polen – Israel – Deutschland. Die Erfahrung von Auschwitz", in der sich zeitgenössische Kunstwerke sehr unterschiedlich auf den nationalsozialistischen Massenmord bezogen. Polyphonie des Holocaust ist der Versuch einer Antwort auf die Proteste bezüglich der gezeigten Exponate. Das MOCAK befragte gemeinsam mit dem Museum Zentrum für verfolgte Künste in Solingen Intellektuelle aus verschiedenen Bereichen – Philosophie, Geschichte, Psychiatrie, Literatur, Kunst und museale Ausstellungspraxis – nach der Erinnerung an den Holocaust: Wie kann er beschrieben und dargestellt werden? Und wo liegen Grenzen der künstlerischen Freiheit?
Die deutsche Ausgabe basiert auf der polnischen Fassung des Buches von 2018. Aus verständlichen Gründen lag uns daran, mehr deutsche Intellektuelle zu Wort kommen zu lassen. Wir haben auch einige Texte von Künstlern hinzugefügt und uns entschieden, die Zahl der polnischen Stimmen zu begrenzen.

Mitherausgeber: Wallstein Verlag, Museum Zentrum für Verfolgte Künste Solingen
Sprache: deutsch
Herausgeberin: Maria Anna Potocka
Redaktionelle Zusammenarbeit: Delfina Jałowik, Jürgen Joseph Kaumkötter
Texte: Stephan Abarbanell, Jerzy W. Aleksandrowicz, Ernst van Alphen, Boaz Arad, Dana Arieli, Omer Bartov, Avi Baumol, Anna Bikont, René Block, Andreas Brenne, Bazon Brock, Tim Cole, Sidra DeKoven Ezrahi, Richard Demarco, Marta Duch-Dyngosz, Jason Francisco, Dani Gal, Jochen Gerz, Włodek Goldkorn, Hilde Gött, Irena Grudzińska-Gross, (H)anka Grupińska, Jan Hartman, Lukáš Houdek, Erez Israeli, Delfina Jałowik, Milena Karabaic, Akiko Kasuya, Jürgen Joseph Kaumkötter, Michel Kichka, Ben Kiernan, Jane Korman, Ruppe Koselleck, Izabela Kowalczyk, Tomasz Kozak, Tomáš Kraus, Robert Kuśmirowski, Bartosz Kwieciński, Sigalit Landau, Berel Lang, Andrzej Leder, Jacek Leociak, Sylvia Löhrmann, Tadeusz Lubelski, Krystian Lupa, Shahar Marcus, Muntean/Rosenblum, Jean-Luc Nancy, Yaacov Naor, Csaba Nemes, Jakub Nowakowski, Stanisław Obirek, Marcel Odenbach, Maria Anna Potocka, Christoph Rass, Norbert Reichel, Julia Riedhammer, Claudia Roth, Anda Rottenberg, Lisa Saltzman, Jadwiga Sawicka, Tanja Schult, Hagai Segev, Roma Sendyka, Ann Snitow, Olga Stanisławska, Peter L. Stein, Halina Taborska, Christine Thalmann, Olga Tokarczuk, Andrzej Turowski, Marian Turski, Krzysztof Warlikowski, Peter Weibel, Andreas Weinhold, Wojciech Wilczyk, Krzysztof Wodiczko, Cezary Wodziński, Jan Woleński
Übersetzung: Mirko Kraetsch, Anna Kröger, Leandra Rhoese, Bernd Stiegler, Andreas Volk
Grafische Gestaltung: Rafał Sosin
Format: 170 × 230 mm
Seitenzahl: 352
ISBN: 978-83-65851-42-0 (MOCAK), 978-3-8353-3176-1 (Wallstein Verlag)
Erscheinungsjahr: 2020
Buy now
35,00 zł
Add
35,00 zł
Add