Janina Turek Life Recorded in 745 Notebooks
27.10.2022 - 19.02.2023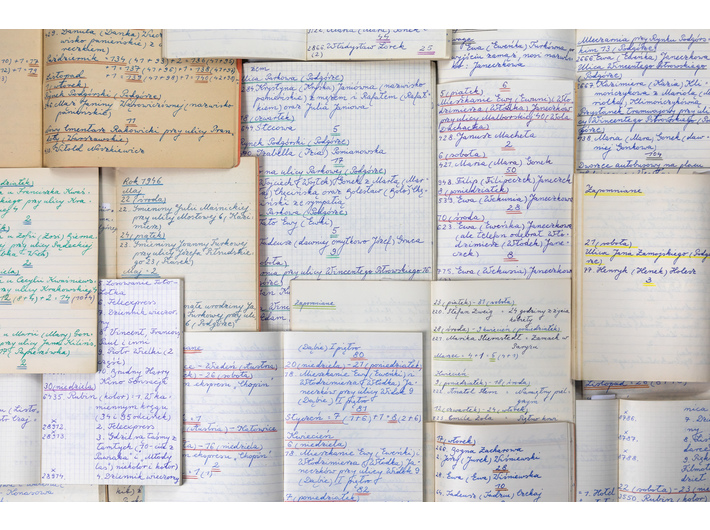 Janina Turek was born in Krakow in 1921 and died there in 2000. She spent most of her life at 6 Parkowa Street in the Podgórze district of the city. On the face of it, she was an ordinary housewife. Yet for 57 years – in secret from her loved ones – she kept a diary. The object of her observations was everyday life, the simplest human activities, to which we often pay little attention. She filled up 745 notebooks, divided into 36 categories, such as 'Chance Encounters', 'Gifts Given', 'Longer Walks', 'Reading', 'Sports', 'Dance Parties', 'Theatre', 'Things Found', 'Phone Calls Made'.
She embarked on the creative effort of keeping a diary as a 13-year old girl, but it was only during the occupation that she evolved her trademark style of minimalist, impersonal entries. She gave equal attention to all the events that she recorded. Her notebooks are both a document of Poland's recent history and an apotheosis of everyday life. They constitute a kind of minimalist literature. They were accompanied by collections: postcards sent to each other, theatre and cinema programmes, books, records.
After Janina Turek's death, her diaries, written almost throughout her life and hidden in her flat, were found by her daughter.
The core of the exhibition will be a presentation of notebooks that have been in the MOCAK Collection since 2016. The exhibition will be complemented by photographs from the family archive, as well as postcards that the diarist collected and a film interview with Janina Turek's daughter.
The exhibition will be accompanied by a publication which, alongside excerpts from the diaries, will include texts by the following authors: Joanna Kubicka, Dominika Mucha, Anna Pekaniec, Maria Anna Potocka and Mariusz Szczygieł.
The purchase of the Janina Turek's diaries has been co-financed by the Minister of Culture and National Heritage of the Republic of Poland