Go to the exhibition
Julian Opie: Sculputres, Paintings, Films
The publication accompanies the presentation of works by Julian Opie, one of the best-known contemporary British artists. The first part of the catalogue contains critical texts by John Slyce and the exhibition curator Delfina Jałowik. The second part is a revue of some of Opie's most recent works presented at MOCAK.
texts: Delfina Jałowik, John Slyce
translation: Paweł Łopatka, Anda MacBride
editors and proof-reading english version: Anda MacBride, Joanna Wadas
graphic design, DTP: Julian Opie, Rafał Sosin
cover: Julian Opie
numer of pages: 138
format: 210 x 270 mm
ISBN 978-83-62435-42-5
publication date: 2014
The catalogue has been published to accompany the exhibition:
Julian Opie: Sculputres, Paintings, Films
curator: Delfina Jałowik
MOCAK the Museum of Contemporary Art in Krakow
18 October 2014–25 January 2015
Buy now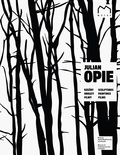 Przecena!
40,00 zł 30,00 zł
Add