Marta Deskur, Manju Pavadai If You Shoot One of Them
18.10.2013 - 19.01.2014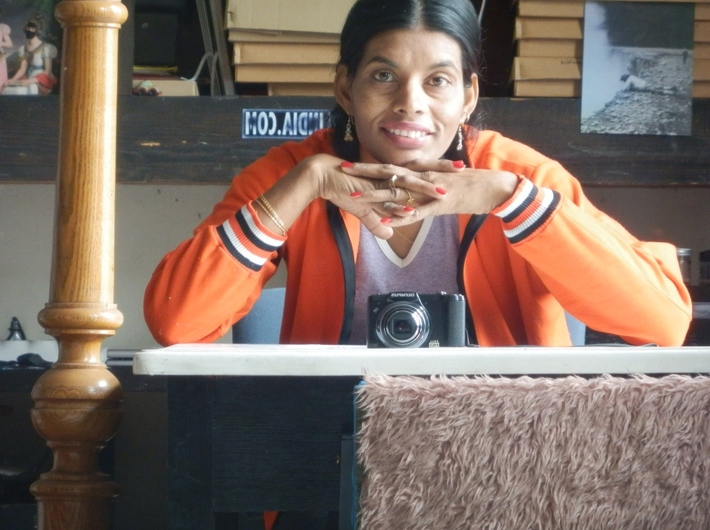 The exhibition If You Shoot One of Them presented in the Beta Gallery is the corollary of a year-long project by Marta Deskur. Its high point was a feature documentary film, whose protagonist is Manju Padavai, whom the Polish artist met during her trip to India. Marta and Manju met in a library in Auroville, a city that had been created as an urban utopia, intended to combine the modernist drive of the Western world with the spiritual aspect of the complex culture of the Indian sub-continent. When they met for a second time, Manju asked Marta to take her to Poland with her.
The title of the exhibition has been taken from Manju's notes. This sentence, taken out of context, lends itself to many possible interpretations, based on the ambiguity of what kind of 'shooting' it refers to: taking a snap or firing a shot? The reason that Deskur has used such an ambiguous title is a pointer to the contemporary Polish artist's attempt to interpret and understand a woman from a different culture.
The exhibition space is based on the dyadic layout of the Gallery to reflect the complex, nonhierarchical relationship between West and East, represented by Marta and Manju. The exhibition focuses on various strategies for empathising – from trying to step into the other's shoes, through attempts at imitating, to screening techniques such as frame repetition. The exhibition shows films shot by Deskur during her journey to India and during Manju's stay in Poland, as well as objects, including both womens' notes, which emphasise the difficulties that arise when trying to translate and understand a foreign idiom.
Marta Deskur, born in 1962 in Krakow. A visual artist. Firstly a painter, since 1990s, she has worked with photography and video. She makes multimedia installations. She graduated from the École des Beaux-Arts in Aix-en-Provence, France (1983–1988). She lives and works in Paris and in Krakow. In her work, she focuses on the issue of closeness and affinity both in family and spiritual relationships. She examines the relations between those close to each other in various configurations of dependency: mother – child, siblings, friends, lovers.
Manju Pavadai, born in 1979 in the village of Kottakarai in the Tamil Nadu region of India as one of six siblings. Until the foundation of the experimental city of Auroville, her parents had been farmers. In the 1960s, Manju's family sold its land to the new Auroville arrivals. Manju attended her primary school in her native village, where she studied in the early years in her native Tamil. When she was 20, she went to school in Auroville, where she learnt English – she probably completed two years. Next, she worked as a home help for a family in the Auroville community, where she met her future husband – a Hindu adopted by an American family. Her marriage did not last, as her husband left her. For a few years, she also worked painting fabrics in an Auroville batik factory, followed by employment in the Auroville Library, where she worked as a cleaner, dusting and binding books. In 2013, she left for Poland, where she is currently staying.