Go to the exhibition
Charlotte Beaudry. Temptress
The catalogue presents the exhibition of the Belgian artist Charlotte Beaudry, for whom the works on display (pictures, a sculpture and a video) are – as Monika Kozioł, the exhibition curator writes in her text – an attempt to 'face the behaviours and accessories of seduction, present the woman as a temptress, show that the beautiful facade may become a trap'.
The bilingual publication in Polish and English includes an introduction written by the curator, her interview with Charlotte Beaudry, Petra Van Brabandt's essay Between Violence and Seduction and the works presented at our exhibition in the Beta Gallery.
texts by: Petra Van Brabandt, Monika Kozioł / Charlotte Beaudry
translation: Anda MacBride, Anna Wolna
language of publication: Polish, English
cover: paperback
number of pages: 32
format: 170 × 230 mm
graphic design, DTP: Rafał Sosin
ISBN 9788362435616
publication date: 2013
Buy now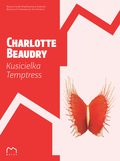 Przecena!
5,00 zł 2,50 zł
Add