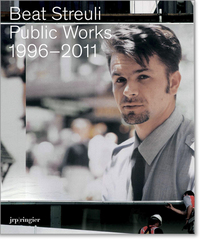 Autor:

Raymond Bellour, Roberta Valtorta, Jonathan Watkins

Wydawnictwo:

JRP Ringier

Język publikacji:

angielski

Rok wydania:

2012

Typ okładki:

miękka

Liczba stron:

160 str

Waga:

0,90 kg

Wymiary:

237x286 mm

ISBN:

9783037642061
130 zł 50,00 zł
Add to basket
Wyprzedaż!
Beat Streuli
Public Works 1996–2011
Swiss artist Beat Streuli (*1957) takes the urban environment and its inhabitants as the central motif of his work. His photographs are neither documentary nor conceptual: rather they lead us to a form of aesthetics that one could describe as the "glamour of the usual."

This monograph is a survey of his oeuvre of the last 15 years, which includes billboards and large-scale window installations on the facades of public buildings, and a selection of his installations of slide and video projections. Streuli by Streuli: an extensive image sequence mostly taken by the artist himself documents Streuli's rejection of the classic museum exhibition context. Instead he takes the photographs back to their place of origin—public space.

With newly commissioned texts by Raymond Bellour, Roberta Valtorta, and Jonathan Watkins.
Published with the Museo di Fotografia Contemporanea, Milan, and the Ikon Gallery, Birmingham.
Najniższa cena, która obowiązywała w okresie 30 dni przed wprowadzeniem promocji: 130 zł
Produkty które mogą Cię zainteresować:
Bored Wolves
angielski
Gestalten
angielski
Karakter
polski
77PRESS
polski
Thames & Hudson
angielski
Taschen
angielski